This back to school season, surprise your teacher with the unique teacher gift ideas that make them feel special on the very first day. The first day of school is an important occasion to show appreciation and create a lasting impression.
Be the student who starts their year spreading joy. Unique teacher gift ideas like customized tumblers, teacher name plaques, or personalized tote bags prove you took extra time to welcome them creatively.
Imagine their smile unwrapping a thoughtful surprise from you on the very first day. They'll be so touched knowing you already appreciate them before class even starts!
Give your teacher a gift they'll treasure daily like an insulated tumbler. Or go big with a customized wooden door sign for their classroom entrance.
Put in that extra effort so when your teacher thinks back on their first day, they'll remember the student who made them feel valued with a unique gift. Make a great first impression and set yourself up for an awesome year by kicking it off with a meaningful present.
Here are 7 Unique Gift Ideas that are sure to stand out
Explore these thoughtful and distinctive ideas that will make the first day of school truly memorable for both teachers and students.
A custom wooden door sign is a unique teacher gift idea that provides a personalized welcome to their classroom. The personalized teacher name or fun phrases make these custom décor the thoughtful unique teacher gift ideas to brighten their first day back.
The wooden door hanger is the perfect way to welcome your teacher back to school or to show your appreciation for all they do. It's also perfect to welcome your students in style and create a warm and inviting learning environment.
BUY NOW |

$

28.99
A super soft t-shirt printed with your teacher's name in vibrant colors is a fun unique teacher gift idea.  Whether you're in the classroom or on the go, our personalized teacher shirts are a stylish way to make a statement. Choose from a range of sizes and colors makes these comfortable unique teacher gift ideas extra special for them.
BUY NOW |

$

23.99
These vibrant and stylish shirts feature a unique design that perfectly captures the spirit of fourth grade. The font lettering adds a touch of playfulness, while the adorable little flower detail adds a charming element.
The grade level shirt are the unique teacher gift ideas to show your appreciation. The bright colors and playful fonts make this shirt perfect for displaying their pride on the first day.
BUY NOW |

$

23.99
This stunning and customizable desk sign is one of the best unique teacher gift ideas, adding a touch of elegance to any desk. Personalize the name plate with your teacher's name to make it truly one-of-a-kind. Show your appreciation for their dedication and create a welcoming environment for learning.
BUY NOW |

$

22.99
An insulated tumbler engraved upliftingly with their name is a unique teacher gift idea that makes the perfect daily companion for coffee or tea. The custom printing makes this useful tumbler for teacher heartfelt. Help your teacher start each day with positivity and style.
BUY NOW |

$

29.99
Take the tote bag for teacher go to school to the next level by personalizing it with the teacher's name. This custom touch adds a thoughtful and unique element to the gift, showing that it was specifically chosen for them.
Carrying it by yourself or unique teacher gift ideas, these tote bag combine personalized charm with practicality. Embrace their individuality and celebrate the art of teaching with this personalized and fashionable custom teacher tote bag.
BUY NOW |

$

17.99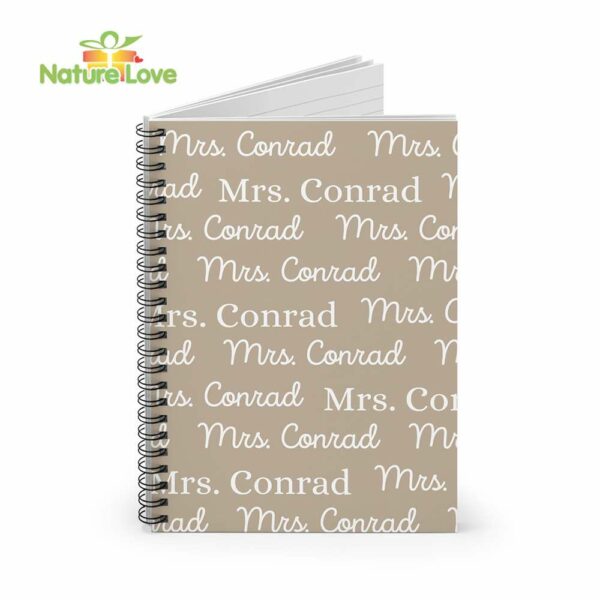 Encourage their creativity and organization with a custom notebook featuring their name. This personal touch will make their note-taking and lesson planning even more special, and it's the practical and unique teacher gift ideas for teachers from students they'll appreciate.
BUY NOW |

$

14.99
Make Teachers Feel Appreciated and Valued with 7 Unique Teacher Gift Ideas
The first day back sets the tone for an awesome school year. With a personalized and unique teacher gift ideas, you can make your teacher feel truly appreciated from day one. Add an extra touch of thoughtfulness this year with custom shirts, tumblers, totes and more that show you care.