Teachers play an invaluable role shaping young lives. Thus, finding thoughtful good gifts for teachers is one of the best ways to show your appreciation and make their demanding jobs brighter. A small, thoughtful present can uplift a teacher's day and demonstrate how much you value their dedication. Good gift for teacher like personalized tumblers, teacher name plates, or custom tote bags add joyful touches to the classroom on this back to school.
Teachers nurture young minds, shape futures, and impact lives every single day. But their jobs are often stressful and underappreciated. Discovering good gifts for teachers that inject inspiration and positivity into their daily routine is a heartfelt way to acknowledge their influence. Read on for 10 good gifts for teachers that will bring smiles all year long.
From customized notebooks to motivational tees, these gift ideas combine practicality with that extra bit of effort to find something unique just for them. Teachers will feel the care put into selecting a gift that matches their personality. Spread some joy this school year with these teacher gifts that convey your gratitude in a memorable way!
Here are 10 Good Gifts for Teachers to Make Their Day Brighten
Personalized Teacher Desk Plate
Customized Wooden Door Sign
Stylish Custom Name Shirt
Heartfelt Appreciate Teacher Shirt
Insulated Tumbler with Name
Empowering Motivational Tumbler
Charming Teacher Mug
Practical Tote Bag
Custom Name Tote Bag
Inspirational Notebook for Teacher
A personalized desk plate printed elegantly makes for practical good gifts for teachers to enjoy daily. This useful teacher desk plate is a thoughtful gift that shows you notice and value the hard work they put in. They'll be touched by your effort each time they use this special item.
BUY NOW |

$

22.99
Welcome students with a custom wooden door sign displaying their teacher's name. This creative classroom sign can inspire kids while helping classrooms feel warm and inviting. These unique good gifts for teachers becomes a beloved decorative element.
BUY NOW |

$

28.99
Help teachers show off their personality with a vibrant custom name shirt printed boldly with their name. Pair their name with cute graphics and fonts that reflect their vibe. This casual good gifts for teachers kicks off the year on an upbeat note.
BUY NOW |

$

26.99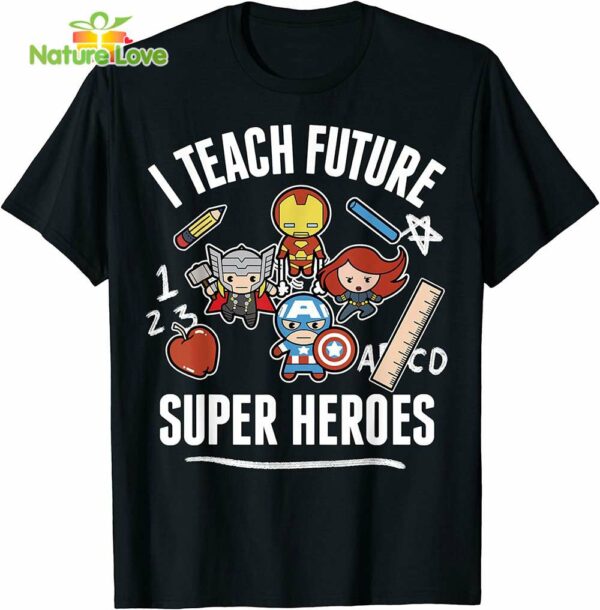 Uplifting messages like "I teach future super heroes" on a soft t-shirt make for the thoughtful good gifts for teachers. Positive quotes and fun design create a comfortable way to spread appreciation through the halls. This feel-good gift for teachers reminds them their hard work is valued. They'll be motivated each time they slip on this uplifting tee.
BUY NOW |

$

23.99
An insulated stainless steel tumbler printed with an inspirational quote makes a useful daily good gift for teachers. This motivational and good gifts for teachers will motivate them when lessons get long. The double-walled stainless steel design keeps their coffee, tea, or water cold all day to fuel lesson plans, grading, and more.
BUY NOW |

$

29.99
Inspirational phrases like "love them, raise them kind, watch them grow" on a sleek tumbler make uplifting good gifts for teachers. An insulated custom name tumbler makes the perfect daily companion for coffee, tea, or water and acts as a great first day of school teacher gift to keep your teacher energized and hydrated. The customization makes these good gifts for teachers unique.
BUY NOW |

$

29.99
This teacher mug designed just for teacher makes for a bright and cheerful first day of school teacher gift. Printed with fun colors or graphics, these good gift for teachers are perfect for holding morning coffee, afternoon tea, or a quick beverage during short breaks. They'll enjoy displaying this vibrant item prominently on their desk.
BUY NOW |

$

16.99
The lightweight, spacious tote bags make the handy good gifts for teachers to transport work essentials. Shoulder straps allow easy carrying while durable fabric. This practical gift will remind your teacher of you each time they grab it.
BUY NOW |

$

17.99
Personalizing tote bags by adding teacher's name make it one-of-a-kind good gifts for teachers. With its sturdy handles and stylish design, it combines functionality with flair. This customized tote bag shows that you took extra time to do something cherished just for them.
BUY NOW |

$

17.99
A spiral teacher notebook with their name printed on the cover makes a thoughtful gift for teachers. Wide ruled pages provide plenty of space for lesson planning, grading, note taking, or journaling. These good gifts for teachers become a treasured tool displaying your appreciation every time they open it up.
BUY NOW |

$

14.99
Show Your Teacher How Much You Care and Bring Daily Joy to the Classroom
<p style="text-align: justify;">These 10 good gifts for teachers have been carefully selected to bring daily joy to the classroom. From personalized tokens of appreciation like a teacher desk plate and custom wooden door sign to practical items like tumblers, mugs, tote bags, and notebooks, each gift is intended to enhance teachers' experience and show them how much they are valued. By acknowledging the dedication and hard work of teachers, these gifts foster a positive teaching environment, uplifting both teachers and students. Let's celebrate the incredible contributions of teachers and express our gratitude with these meaningful gifts that bring daily joy to the classroom.</p>