As a new teacher embarks in the world of education, they are filled with excitement and a desire to help in their students' lives. Gifts for new teachers are a thoughtful way to support and encourage these educators as they take on this rewarding yet challenging profession. In this blog, we have curated a list of meaningful gifts to inspire and motivate new teachers in their dedication to shaping young minds.
From personalized desk plates and wooden door signs to stylish apparel and practical tumblers, these back to school gifts will celebrate the enthusiasm and passion of new teacher. Custom and creative gifts for new teachers demonstrate your belief in them to pass on knowledge that transforms lives. Find heartfelt ways to uplift their spirit and confidence with these unique gifts designed just for them.
Here are 9 Best Gifts for New Teachers to Encourage Their Journey
Meaningful Personalized Teacher Desk Plate
Beautiful Custom Wooden Door Sign
Personalized Custom Name Shirt
Trendy Teacher Shirt
Inspiring Inspire Shirt
Personalized Tumbler with Name
Classic Teacher Mug
Practical Tote Bag
Thoughtful Custom Name Note Book
A personalized teacher desk plate is a meaningful and practical gift that allows new teachers to add a personal touch to their classroom space. Engraved with their name or a motivational message, it serves as a constant reminder of their commitment to education and their students. These thoughtful gifts for new teachers will make their classroom feel like their own special space as they embark on their teaching journey.
BUY NOW |

$

22.99
Help new teachers make a lasting impression on their students and colleagues with a custom wooden door sign for their classroom. These beautifully crafted signs can feature their name, a motivational quote, or a playful design that reflects their teaching style. It not only adds a touch of warmth and personality to their classroom but also helps create a welcoming environment for everyone who walks through the door.
BUY NOW |

$

28.99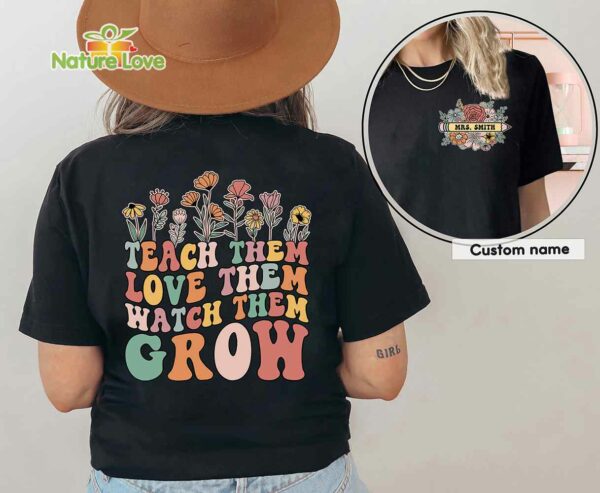 Celebrate the new teacher's identity and passion for education with a custom name teacher shirt. This unique teacher shirt showcases a beautiful flower design, symbolizing growth, resilience, and the blossoming potential of each student.
This personalized shirt allows them to proudly display their name and title, showing their commitment to their students and their role as an educator. The comfortable shirt – gifts for new teachers let them display their unique personality while kicking off their teaching career in style.
BUY NOW |

$

26.99
Encourage new teachers to embrace their profession with style and flair by gifting them a trendy teacher shirt. These trendy Era Shirt feature playful Taylor-themed design in the groovy font that will bring a smile to teacher's face and celebrate the teaching profession. Perfect as the gifts for new teachers, these custom name shirts allow them to express their enthusiasm for teaching with a fashionable twist.
BUY NOW |

$

26.99
Boost the spirits of new teachers with an inspirational shirt, specially designed to motivate and uplift. These thoughtful gifts for new teachers send a powerful message of encouragement, reminding them of the positive impact they have on their students' lives.
Featuring a vibrant rainbow and the heartfelt message "I Love My Job For All The Little Reasons", this cute teacher shirts is a tribute to the countless small moments that make teaching rewarding. It's a reminder that they are not only educators but also role models and inspirations for the next generation.
BUY NOW |

$

23.99
Its a Good Day to Teach tumblers with their name printed are the practical and personalized gifts for new teachers. This custom teacher tumbler keeps their favorite beverages at the perfect temperature throughout the day, reducing the need for disposable cups. Each time they take a sip, they'll be reminded of the support and appreciation they receive from their colleagues and students.
BUY NOW |

$

29.99
A classic and timeless gift, a teacher mug is always appreciated. Surprise a new teacher with Its a Beautiful Day to Teach Teacher Mug. With vibrant rainbows and playful fonts these mug are perfect as the gifts for new teachers. They'll love having their own motivational style to sip from. Whether it's used for morning coffee or afternoon tea, this mug will become a cherished part of their daily routine.
BUY NOW |

$

16.99
Help new teachers stay organized and carry their teaching essentials with style by gifting them a practical teacher tote bag. With vibrant colors and playful patterns, the bag with sufficient space for school supplies will bring a smile to your face and add a touch of whimsy to your day.
This delightful tote bag is thoughtfully designed with teachers in mind, providing ample room for all your teaching essentials and perfect as the gifts for new teacher. Not only is it functional and durable, but it also features a charming design inspired by cute school supplies.
BUY NOW |

$

17.99
A custom name notebook is a thoughtful and practical gift for new teachers. This personalized notebook allows them to jot down lesson ideas, make plans, and keep track of important information. It's a useful tool that will aid them in their planning and preparation as they navigate their new role.
BUY NOW |

$

14.99
Surprise Educators with Best Gifts for New Teachers
As new teachers embark on their journey in education, these thoughtful and inspiring gifts for new teachers will uplift and motivate them to make a difference in the lives of their students. From personalized items like teacher desk plates and custom wooden door signs to trendy shirts and practical items like tumblers and tote bags, each gift is carefully selected to celebrate their dedication and passion for teaching. Let's encourage and inspire new teachers on their path to shaping young minds and creating a positive impact in the world of education with these meaningful gifts for new teachers.