The new school year is just around the corner, and it's time to show our gratitude with the back to school teacher gift to the incredible educators who dedicate their lives to shaping young minds. Finding the right back to school teacher gift can be a meaningful way to express our thanks and let them know how much they are valued.
In this blog post, we'll share 5 thoughtful back to school teacher gift ideas that will not only make teachers feel special but also inspire and motivate them throughout the school year.
1. Personalized Desk Accessories
A personalized desk accessory, such as a nameplate or a custom wooden door sign, can add a touch of uniqueness to the teacher's workspace. Engraving their name with an available motivational quote will remind them of their importance and dedication.
2. Custom Name Shirts or Motivational Shirts
Let teachers wear their pride with custom name shirts or motivational shirts. These comfortable and stylish apparel pieces can be personalized with their name, inspiring quotes, or uplifting messages, serving as a constant reminder of their positive impact.
3. Notebook
Every teacher appreciates a good notebook to jot down ideas, lesson plans, and inspirations. Choose a high-quality notebook with a personalized touch, such as their name or a motivational phrase on the cover, to spark their creativity.
4. Self-Care Items
Teaching can be demanding, so pampering teachers with self-care items can show them that their well-being is important. The perfect one could be a funny positive mug, or a motivational tumbler with teacher's name.
5. Customized Tote Bags
Teachers often have to carry numerous materials to and from school. A personalized tote bag with their name and motivational message will not only be practical but also remind them of their impact every time they use it.
Back to School Teacher Gift: Make Educators Feel Special!
Show your appreciation with these thoughtful and practical Back To School Teacher Gifts designed to make their school year even more special. Discover the perfect way to express your gratitude and make a lasting impression on your favorite teachers!
Show your appreciation for your favorite teacher with this beautiful wildflower teacher desk name plate. Made from high-quality acrylic, this name plate is durable and long-lasting. It features a stylish design with a blooming wildflower and your teacher's name.
The perfect Back to School Teacher Gift or any other occasion, this name plate is sure to be a cherished keepsake. Designed to inspire and motivate both teachers and students alike, this custom acrylic name plate adds a touch of sophistication to any desk.
BUY NOW |

$

22.99
Surprise your teacher and show how much you appreciate them with a Wildflowers Its a Good Day to Learn Classroom Sign. This personalized teacher door hanger is perfect for any teacher, and it's sure to be a hit for back to school.
This custom door hanger adds a touch of charm and warmth to any classroom. Crafted with high-quality wood and 3D printed without layers, this round sign creates a unique Back to School Teacher Gift. Hang it on the classroom door to welcome students with style and create a welcoming environment.
BUY NOW |

$

28.99
Get ready for a back to school day with Beautiful Day for Learning Personalized Shirt designed specifically for teachers going back to school. Personalize this stylish and comfortable shirt with the teacher's name to make it truly unique.
Perfect as teacher back to school outfits or as Back to School Teacher Gift, this personalized teacher shirt will make any teacher feel appreciated and ready to inspire their students. This teacher custom shirt is not only comfortable and stylish, but they also honor their commitment to shaping young minds.
BUY NOW |

$

23.99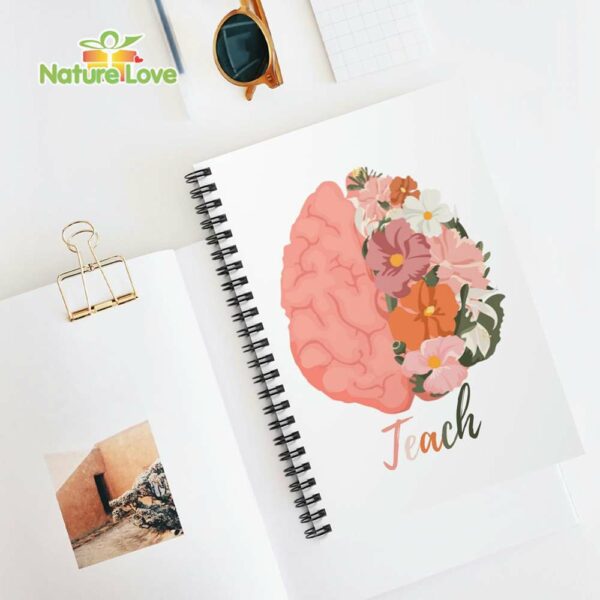 Discover the perfect Back to School Teacher Gift with our Flower and Mind Teacher Spiral Notebook. This beautifully designed notebook combines the elegance of flowers with the power of the mind, creating a unique and inspiring gift.
Whether used for lesson planning, jotting down, or taking notes during meetings, this notebook for teacher will be a cherished companion ideas for educators. Show your appreciation and kick off the school year with a thoughtful gift that combines functionality and style.
BUY NOW |

$

14.99
This charming teacher tumbler features a beautiful wildflower design and can be personalized with the teacher's name, making it a thoughtful and unique Back to School Teacher Gift.
Crafted with high-quality materials, this tumbler keeps beverages hot or cold for longer, ideal for busy teachers on the go. Perfect for daily use or as a gift for teacher, this teacher tumbler will make any teacher feel appreciated.
BUY NOW |

$

29.99
Ignite your teaching journey with our exclusive Teacher Tote Bag! This exceptional accessory is tailor-made for the exceptional teacher who light up young minds every day. Adorned with an enchanting design inspired by cute school supplies, it adds a playful touch to your classroom style.
The Cute Teacher Tote Bag seamlessly blends fashion and functionality, perfect as back to school outfits or as Back to School Teacher Gift for teacher. It boasts ample space to hold books, and essential teaching tools, while the durable materials ensure it can keep up with the energetic pace of a classroom.
BUY NOW |

$

17.99
Surprise Educators with Love and Appreciation
Teachers play an invaluable role in shaping the minds and futures of their students. This back to school season, let's go beyond the ordinary and surprise educators with thoughtful back to school teacher gift that show our love, appreciation, and recognition for their dedication.
Whether it's a personalized desk accessory, an inspiring book, or a self-care item, the gesture will undoubtedly make them feel cherished and motivated to continue making a difference. Together, let's make this school year an unforgettable one for our incredible teachers.
Visit our website to explore our selection of thoughtful back to school teacher gift. We offer a variety of items and designs to choose from, so you're sure to find the perfect gift to show your appreciation for the educators in your life.