Teachers play an invaluable role in shaping our lives. They dedicate countless hours to educating and inspiring students year after year. Personalized Teacher Gift is a thoughtful way to show your gratitude and appreciation to your favorite teacher.
Personalized, unique gifts are a heartfelt way to acknowledge the impact they have made. Custom-tailored presents with special details remind them why they chose this difficult yet rewarding career path – to make a difference in students' lives. This back to school, consider unique gift ideas that convey how much you value your teacher's commitment to nurturing your growth and learning.
The flowing gift guide will focused on personalized items like apparel, tumblers, tote bags and more that express genuine appreciation. With a custom present specially created for them, you can give your teacher a meaningful symbol of your gratitude.
Thoughtful Personalized Teacher Gifts for Your Favorite Educator
From custom shirts to wooden door signs, teacher desk plates to personalized tumblers and tote bags, let's explore these special gifts that will make teachers feel truly valued.
This beautifully designed personalized tote bag allows you to add a personal touch by featuring your favorite teacher's name. Crafted from high-quality materials, our customizable tote bag offers durability and ample space to carry books, supplies, and essentials.
With its sturdy handles and stylish design, it combines functionality with flair. Your teacher will appreciate the usefulness and personalized flair of their new bag printed especially for them. Perfect as back to school outfits or as personalized teacher gift, this bag honor their commitment to shaping young minds.
BUY NOW |

$

17.99
Staying hydrated throughout the busy school day is important. Give your favorite teacher a stylish way to drink water with a personalized teacher gift – stainless teacher tumbler. Add the teacher's name, double-walled steel tumbler in their favorite style. Whenever they take a sip, the custom drinkware will remind them of your thoughtful gift.
BUY NOW |

$

29.99
Custom t-shirts with teacher name, uplifting quotes or cute drawings make teachers light up when they open the gift. Vibrant colors and positive images that related to school supplies on a soft cotton tee adds a dose of inspiration to their wardrobe.
For a simple yet thoughtful personalized teacher gift, have a tee printed with their name to make it unique and show you put extra thought into it. This custom teacher shirt is not only comfortable and stylish, but they also honor their commitment to shaping young minds.
BUY NOW |

$

26.99
Custom teacher desk plate accessories become constant reminders of your appreciation. A sleek acrylic desk plaque with their initials is a refined gift teachers will enjoy displaying. Crafted with high-quality materials, teacher name plates will bring the smile to your teacher face every time they see it.
Put it on the front desk to welcome students with style and create a friendly environment. This customized name plate is the practical personalized teacher gift, adding a touch of elegance to any teacher's workspace.
BUY NOW |

$

22.99
The 3D wooden door sign features a boho rainbow design and your custom name. It's the perfect way to add a bit of personal flair to the classroom entryway and show your students how much you care.
The teacher door sign is perfect back to school personalized teacher gifts, adding a touch of whimsy and personalization to any learning environment. The 3D printed directly into the wood, without layers, making this personalized door sign is sure to last for years to come.
BUY NOW |

$

28.99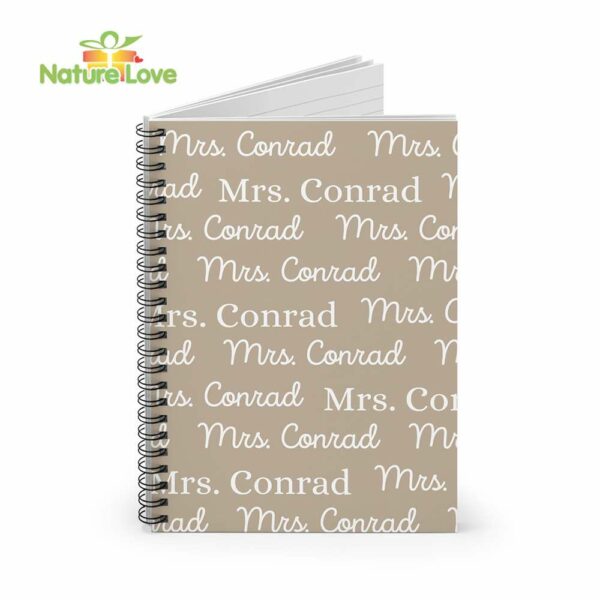 Celebrate the first day of school with the perfect personalized teacher gifts! This custom notebook is designed to make educators feel truly special and appreciated. Add their name to create a unique and personalized touch.
With its high-quality materials and durable construction, it's perfect for jotting down lesson plans, ideas, and notes throughout the school year. Perfect for daily use or as a gift for teacher, this notebook for teacher will make any teacher feel appreciated and ready to inspire their students.
BUY NOW |

$

14.99
Personalized Teacher Gifts that Make Teachers Feel Appreciated and Valued
When it comes to expressing gratitude and appreciation to educators, personalized teacher gifts hold a special place. From custom shirts and wooden door signs to teacher desk plates, personalized tumblers, and customized tote bags, these unique and meaningful presents celebrate teachers' individuality and dedication.
By personalizing these gifts, you show that you value their contributions and recognize the impact they have on the lives of their students. Let your favorite teacher know how much they mean to you with a personalized gift that will be cherished for years to come.
Visit our website to learn more about our selection of first day of school teacher gifts. We offer a variety of designs and customization options, so you're sure to find the perfect gift to show your appreciation for the educators in your life.